A taste for adventure, a craving to be on the open sea, or the dream of being a sailor? The Bay of Arcachon is an invitation to escape on a sailing boat!
The Bay of Arcachon is the ideal location for a sailing cruise in the middle of an inland sea with the most exclusive coastal landscapes.
As a couple, with family or friends, renting a sailing boat on the Bay is the promise of a getaway and freedom. From the Dune of Pilat to the Banc d'Arguin sand bank, from Arcachon to the Île aux Oiseaux or from Andernos-les-Bains to Lège-Cap-Ferret, the marvels of the Bay of Arcachon and Bay of Biscay will welcome you for an unforgettable holiday!
Just for the day, a weekend or longer, board a sailing boat at the Port of Arcachon and set out to sail the Bay's azure waters. With your hair in the wind, breathe in, inhale the sea air and smell the sea spray which accompany on your boat trip through picture postcard landscapes.
There are two different options are available: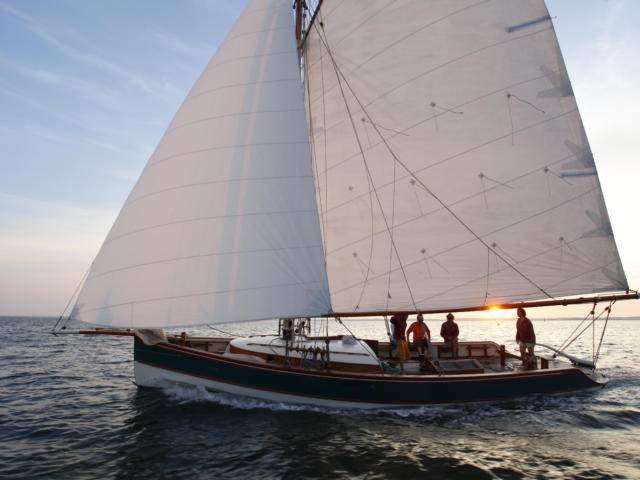 Renting a sailing boat just for you
If you are very knowledgeable about recreational boating, you can choose to rent a private sailing boat and sail quite freely. If you are used to manœuvring, changing course, hoisting the sails and taking the helm, then it's the ideal way to explore the Bay at your own pace.
Share the pleasure of sailing, which is technically challenging and thrilling too, in the sheltered waters of the Arcachon Bay. Moor at one of the oyster farming villages which punctuate your boat trip to taste oysters or seafood. A pure moment of delight!
Boat trips, hiring a private sailing boat or boat rental with a skipper
For a relaxing boat trip without necessarily needing to keep your eye on the skyline, you would be better off choosing an excursion with an experienced skipper. Board with a professional crew at the Port of Arcachon for an unforgettable experience at sea. Take a cruise to unwind and enjoy breath-taking views of the coastline, small, wild coves, the beach-front villas which are typical of the Bay, and let the lapping water rock you in an atmosphere of tranquillity.
A trip following the wind to the Arcachon Bay's most beautiful locations!