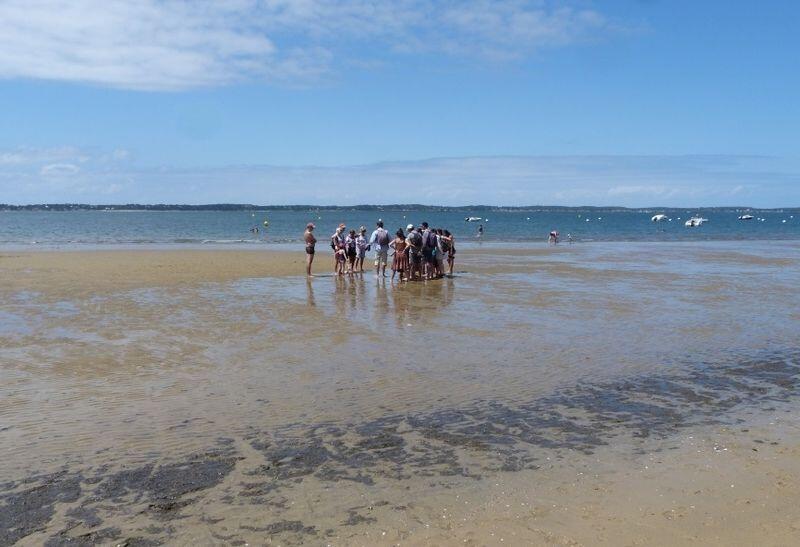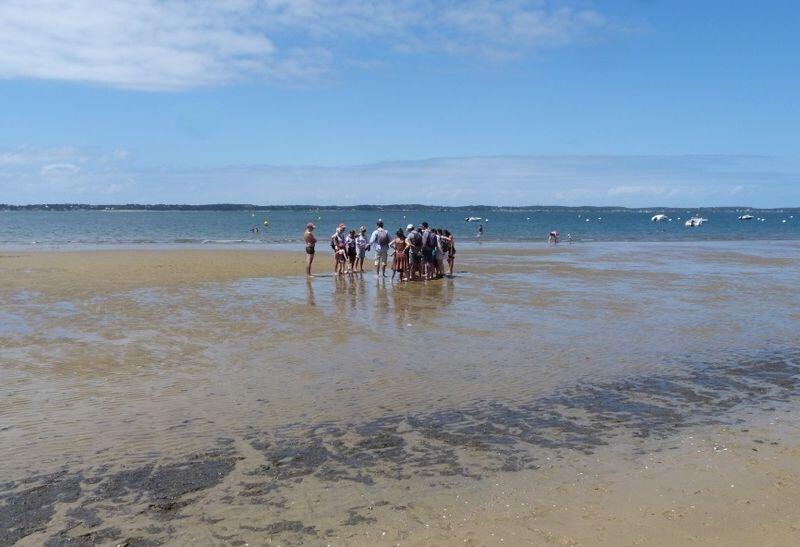 Visite guidée : La vie secrète du banc de sable de Pereire
Nature and relaxation,
Events and shows for young persons,
Visit,
Cultural
in Arcachon
In a calm and preserved natural environment, discover an unknown but diverse fauna! Young and old, armed with buckets and shovels, take advantage of the low tide to explore the foreshore and understand the secrets of its countless hosts. Among the algae and seagrass, under the sand or in a few centimeters of water, live shells, crabs and shrimps, sea urchins and groundfish are just waiting for your visit!
On

April 3, 2023

On

April 11, 2023

On

April 17, 2023

On

April 26, 2023

On

May 3, 2023

On

May 10, 2023

On

May 17, 2023

On

May 24, 2023

On

June 2, 2023

On

June 9, 2023

On

June 15, 2023

On

June 23, 2023

On

July 1, 2023

From

July 7, 2023




until

July 8, 2023

From

July 15, 2023




until

July 16, 2023

From

July 23, 2023




until

July 24, 2023

On

July 31, 2023

From

August 5, 2023




until

August 6, 2023

From

August 13, 2023




until

August 14, 2023

On

August 21, 2023

On

August 23, 2023

On

August 30, 2023

On

September 4, 2023

On

September 11, 2023

On

September 20, 2023

On

September 27, 2023

On

October 4, 2023

On

October 11, 2023

On

October 20, 2023

On

October 26, 2023

On

November 4, 2023
Monday

10:00 AM - 12:30 PM
Tuesday

3:00 PM - 5:30 PM
Monday

10:00 AM - 12:30 PM
Wednesday

3:00 PM - 5:30 PM
Wednesday

10:00 AM - 12:30 PM
Wednesday

3:00 PM - 5:30 PM
Wednesday

10:00 AM - 12:30 PM
Wednesday

3:00 PM - 5:30 PM
Friday

10:00 AM - 12:30 PM
Thursday

10:00 AM - 12:30 PM
Saturday

10:00 AM - 12:30 PM
Saturday

3:00 PM - 5:30 PM
Saturday

10:00 AM - 12:30 PM

Sunday

10:00 AM - 12:30 PM
Monday

10:00 AM - 12:30 PM
Saturday

3:00 PM - 5:30 PM
Monday

10:00 AM - 12:30 PM

Sunday

10:00 AM - 12:30 PM
Wednesday

3:00 PM - 5:30 PM
Wednesday

10:00 AM - 12:30 PM
Monday

10:00 AM - 12:30 PM
Wednesday

3:00 PM - 5:30 PM
Wednesday

10:00 AM - 12:30 PM
Wednesday

3:00 PM - 5:30 PM
Wednesday

10:00 AM - 12:30 PM
Thursday

10:00 AM - 12:30 PM
Saturday

3:00 PM - 5:30 PM